Yoga / Personal Training Services in Minneapolis (Northeast)
SHIFTS HAPPEN
Yoga & personal training for people of all fitness and experience levels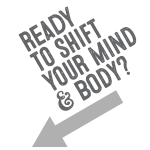 Make the SHIFT
Home of SHIFT Fit: Re-shift Metabolism
Metabolic Testing: $75 initial visit, (30 minutes) $30 follow ups (15 minutes) includes Body Composition and Dynamic Posture Assessment Computerized Reports.
Metabolism matters and it is unique to each individual, it is not one size fits all. Metabolism is an essential component to weight management, including weight gain, loss or maintenance. It is influenced by several factors including age, body weight, hormone levels, medications, gender, muscle mass, illness, disease, post surgery or injury and activity levels. Find out how many calories your body needs every day in addition to musculoskeletal assessment.
Metabolic Testing & Nutrition Counseling: $140
Nutrition Counseling: $70 initial visit (60 minutes), $40 follow ups (25-30 minutes)
An initial interview which will assess weight, BMI, medications, medical history and goals and a unique plan will be developed based on your needs. Educational materials will be provided. Follow up visits are an important part of nutrition counseling. They provide further education or assessment if needed, fine tune things and provide encouragement to continue towards your goals. The number of visits depends on each individual.
Holistic Health Coaching: $70 initial visit, $40 follow ups (25-30 minutes). These visits help the client in making healthy lifestyle choices integrating doctor prescribed medications, nutrition and fitness working together and providing you with tools to achieve your goals.
Therapeutic Yoga/Personal Training: $70/hr, $40/ 30 min for individual sessions, $75/hr for small groups (maximum 4 people)
Props such as stability balls, therabands, scarves, light weights or balls may be used.
Fitness Programming: $70 for individual plan
A fitness plan will be developed to complement your nutrition plan. All things are taken into consideration including the time you can commit to exercise, equipment available at home or a gym and your ultimate goal.
Online Fitness/Nutrition Programming available $15 per month and customized to your changing needs.
Fitness & Nutrition Packages are available: contact for further information
Payments by credit card, check or cash
• $25 fee for all appointments missed or not cancelled within 24 hours of appointment time
• $25 fee for all returned checks