Nutritional Meal Coaching
Getting and staying healthy begins from the inside out and of course that involves food.
As a Certified Personal Trainer I engaged in Nutrition Classes but also went on for Advanced Holistic Nutrition Coaching. As a ACE Certified Health Coach I also work with special needs as with diabetes, high blood pressure, high cholesterol as well as nursing and family needs. Food can also make a hormones challenging.
I certainly became a foodie in Advanced Holistic Nutrition class as I was exposed to more food choices, herbs and spices.
Recently, I was exposed to an awesome company of which I found healthier dinner choices and takes the challenges of safe, whole foods to a great affordable freezer to table meal choices.
www.mywildtree.com/shiftwithtammy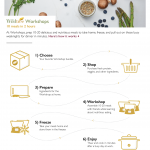 Remote Guidance for Nutritional Counseling is available as well as Healthy Shopping Choices and Meal Planning.